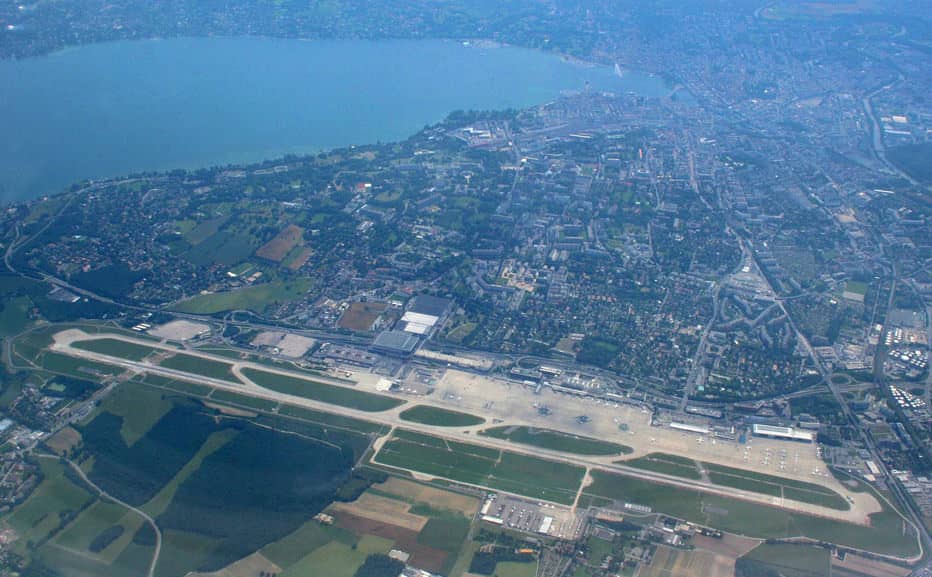 Geneva Airport
Geneva Airport is in Switzerland and sits next to the border with France.  It is just over 100km / 62 miles from Chamonix and it takes a little over an hour by car or private minibus. The airport has flights coming from all over the world and many airlines fly direct from the Middle East and North America. Geneva is a big financial centre and the airport has made massive efforts to streamline customs and immigration, so that waiting times are very short.
In addition to long-haul flights, Geneva connects to many European cities. In the UK and Ireland alone over 20 airports fly to Geneva. Airlines include British Airways, Easyjet, Jet2, Aer Lingus and Flybe. Flight times are generally under two hours and so it is very easy to take a mid-morning flight from the UK and be in a Chamonix hotel by mid-afternoon. Flight prices fluctuate according to date and time of travel. High season, weekend and day-time flights tend to cost more.
Transferring from Geneva to Chamonix
The road transfer from Geneva Airport to Chamonix takes an hour and fifteen minutes and you need to add fifteen minutes more if you are staying in Argentiere or Le Tour. The simplest and most cost-effective transfer is with a share minibus company. These companies offer shuttle runs virtually every hour and cost around €40 per person for a one way transfer. Normally you travel in a minibus and with other passengers who may not be part of your group. It is best to book these in advance and they can be easily found on the internet.
There is a public bus from Geneva Airport to Chamonix that continues on to Courmayeur and Milan. Although reliable, it is infrequent, but is a viable alternative. Taxis are expensive and you can expect to pay at least €250 if you pick up a cab at Geneva. Trains are not really worth considering as the journey will take well over three hours. However, if you do prefer to travel by train, it is best – and most scenic – to go along the shores of Lake Geneva (also known as Lac Léman) to Martigny and then head over the mountains via Finhaut and Vallorcine. The journey takes around 3 ½ hours.
Facilities at Geneva Airport
Geneva Airport has everything you would expect from a major international hub: restaurants, cafés, car hire, post office etc. The train station is a two minute walk and has onward connections all over Switzerland. There are ATMs, but as you are in Switzerland you will get Swiss Francs. It is best to wait until you get to the Chamonix Valley and take out money there.
Things to do in Geneva
Geneva city can be reached in less than ten minutes by train from the airport. The city is known as a financial centre and most hotels and restaurants cater around this. There is not an awful lot to do, but the lake-view is nice and there are plenty of shops and cafés to dip in to.
Milan Airport
If you are intending to start the TMB from Courmayeur in Italy, it makes sense to take the bus from Geneva to Chamonix and through the Mont Blanc Tunnel or fly to Milan and take the scenic train or bus journey to Courmayeur. This trip takes you along the southern side of the Alps and the Mont Blanc massif. Taken with an overnight stop in the ancient city of Aosta, which has Roman and Medieval walls and buildings, this can make an interesting journey before starting the Tour du Mont Blanc.