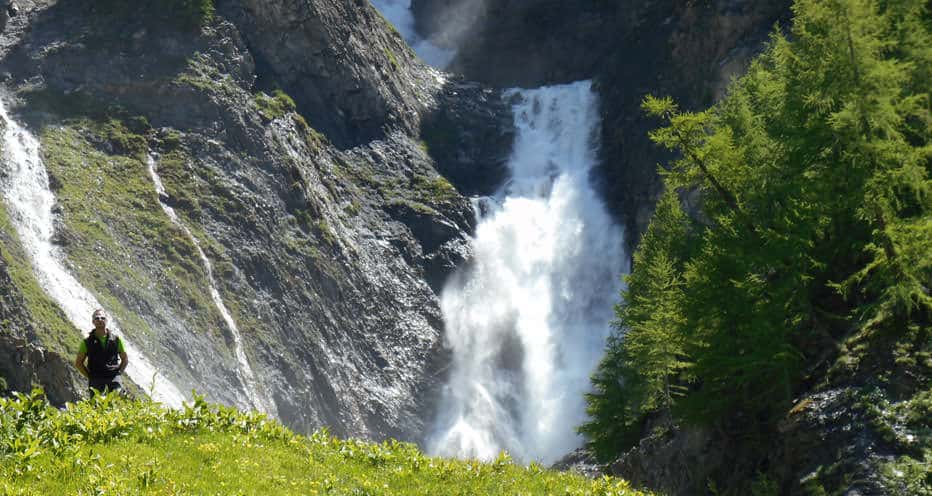 The Tour du Mont Blanc is the most popular
long-distance
walk in France, if not Europe. It circumnavigates the
Mont Blanc massif
, crossing a
distance
of about 165 km (110 miles) and an ascent/descent of 10 km (6.2 miles), moving through France, Switzerland and Italy.
It is also dubbed one of the classic long-distance trekking paths. It is no wonder, every year, thousands of hiking buffs make their way to the popular French Alps to leave their footprints along its trail.
The circular trail is usually trekked in an anti-clockwise direction in 10 – 11 days. On the same route, is held an annual mountain marathon which takes 20 hours to complete.
Starting Location of the Tour du Mont Blanc
The common starting points of the trail are Les Houches in the Chamonix valley or Les Contamines in the Montjoie valley (France). If you are starting off from Italy, it would be Courmayeur, and if in Switzerland, Champex or Martigny.
The route covers seven valleys in the Mont Blanc massif; an anti-clockwise start in Chamonix would take you through the Chamonix valley, then Montjoe, Vallee des Glaciers, on through the Italian Val Veni and Switzerland's Trient valley, depending on your selected route.
Over the years the official trail has changed and many variants exist, contrary to the main route. However, the delightful experience is still the same. Scenic mountain tops, crowned by layers of floating clouds and dotted settlements of diners and family-run hotels make the Tour du Mont Blanc a huge favourite.
Blaze the Tour du Mont Blanc trail with Salamander Adventures
You don't have to be a hiking buff or a mountain trekker to attempt this beautiful trip. If you are a lover of nature and the finer things of life, you will enjoy the Tour du Mont Blanc location and experience.
Here at Salamander Adventures, we arrange safe trips for about 150 people every year to experience the stunning beauty of the French Alps. We have an office location in Chamonix, France which makes it easier for our guests.
Our affordable packages include a fully guided tour, mainly for first-time hikers. It consists of groups of a maximum of 14 people led by one of our experienced guides- who is also an international mountain leader.
Our other two packages (for the Tour du Mont Blanc) are a self-guided tour for a minimum of two people, and a budget TMB tour for backpacking trekkers who enjoy the fun of dorms.
To find out more about our offering and booking service contact us via our online form.
Or call us today on 01273 256753
A representative will be pleased to answer your inquiries.