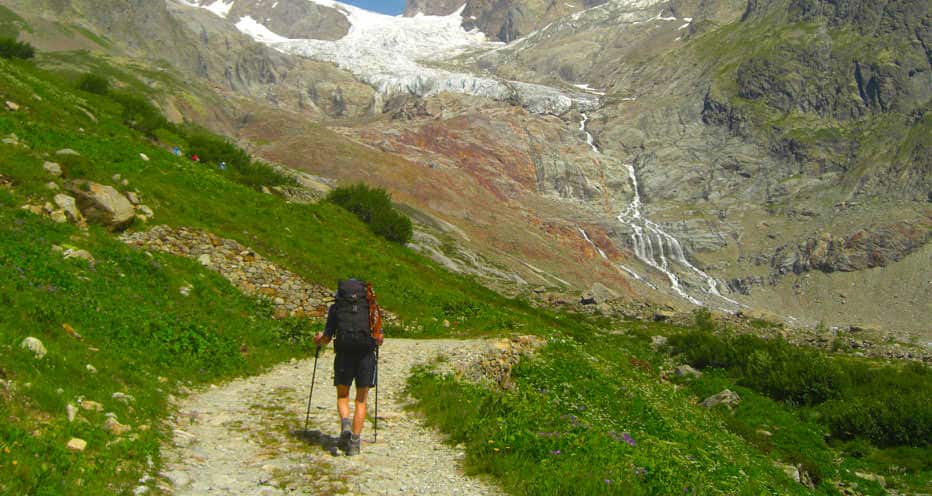 How do You Want to Hike?
You can use a guide to tour Mont Blanc or you can tour it yourself. With the former option, you can get a guide that will make the entire plan for you, consulting with you to ensure everything suits your needs. Of course, it costs more, but it saves you a lot of time, ensures you have all the essentials, and it's the safest option — the guides know all about the trek as well as some of the hidden gems.
However, if you are on a budget or relish the challenge of doing it yourself, you will need to do a lot of research to ensure you are ready.
A good place to start your research is to get the book "Tour of Mont Blanc: Complete Two-Way Guide" accompanied with a good map.
How to Trek
The traditional way of trekking circles Mont Blanc in the anticlockwise direction. You get to run into trekkers along the way and this will allow you hike with other people if you like. You can choose to go clockwise if you prefer but you should be ready to do a 1500m ascent on the first day.
How to Plan Your Day
It's counter-productive thinking that you can do the trek in a set number of days. It's better to plan each day based on what seems reasonable. Timing listed on guides typically does not include time spent during stops, rain or on long days. So if a guide says a trek would last 6 hours, you may want to add 2 extra hours and plan accordingly.
There are refuges, hotels, B&B's, and mountain huts along the path, as you would expect of a hiking path that sees more than 10,000 people a year. Make all your bookings before going, according to the path you wish to trek. You can make some bookings online; however, there are some refuges you can only book via phone. The unofficial language of the path is French, even in the Switzerland or Italy axis of the tour. So it's not uncommon to realize that the person on the phone may not be able to understand you if you don't speak French.
Also, the bookings can be time-consuming and have to be done one after the other. It's highly recommended that you delegate the bookings to someone else even if you prefer a self-guided tour.
You need to be fit. For instance, if you're planning a moderate hike through Mont Blanc, you should be doing a minimum of 5 hours trekking during the weekends, for three months before your trip. You will enjoy the views better if you are not suffering during the walk.
You don't have to hike days after the days, especially if you are not very young. You can take a day or two off between hikes and just enjoy a town or village. This will make your walk more comfortable and you get a richer experience.
It's important you pack accordingly. You will need ankle protective boots, hats, sunglasses, warm clothes, etc, even during the summer. And don't forget to read safety advice.
Touring Mont Blanc is a great experience and the tips in this guide will help you in your preparation.