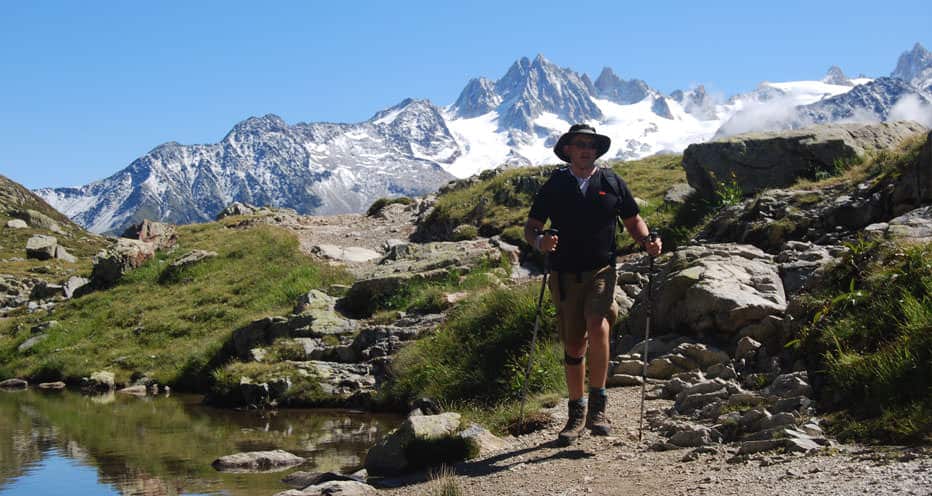 Highlights
Distance of about 170km distance
Cross three countries in one hiking/walking/trekking trail
Trek, walk, and hike for 10 days, with a rest day in the middle
Hike through steep mountain trails, verdant valleys rich in vegetation
Stunning snowy/icy mountain view
Age range is 14 to 76 years
Enjoy mountain delicacies
Overview
The ten-day, back to back adventure is one of the World's most famous and greatest hiking trails. You will get the chance to experience trekking the Alps, hiking the steep ridges and walking past glacial lakes from France to Italy to Switzerland along the Tour du Mont Blanc.
The spectacular trails will take you around the Massif of Du Mont Blanc with up to 10km ascent and descent. You will walk, trek and hike across high roads, Alpine meadows, Verdant valleys rich in vegetation. Pass through communes and towns with refuges where you will enjoy delicious mountain cuisines, wines, family run hotels, supermarkets, shops and spas.
Some of the Towns on the TMB Route
Chamonix, France: this is our starting point of the TMB adventure, it has an impressive environment that has caught the eyes of mountaineers, explorers, scientists for centuries. With exquisite hotels and delicious French bakeries, you will also get the chance to see the beautiful Lac Blanc Lake.
Argentiere, France: Situated east of Charmonix, this town is famous for its amazing ski area, you will get the chance to hike the glacial mountains, whilst also enjoying walking the Alps.
Champex, Switzerland: The French speaking side of the Switzerland. It is a typical postcard Swiss village with restaurants and bars to unwind and reward yourself for the day's activities.
La Fouly, Switzerland: Has small ski resort, with some basic facilities—a few hotels and bars.
Courmayeur, Italy: You will experience the view of the beautiful Mont Blanc landscapes coupled with Italian wines and foods. This is where we rest for a day, you will get the chance to enjoy the spas—where you can relax and relieve your tired muscles after a long day of walking, trekking and hiking.
How Should I Pack for my Daily Trip?
Think about how stressful it is to carry groceries from your parking lot to your house when your feet have become sore and you just can't wait to get to the nearest refuge—that is when you will realize your backpack is actually a dead weight. Resist the temptation of packing unnecessary stuffs for your daily trips.
How old should I be to participate in the Adventure?
Age is never a barrier in this adventure, you must be fit though. Previous age range has been between 14 to 76 years. However, kids less than eighteen years of age should be accompanied by an adult on the trip.
The size of the group for a Guided trip is minimum of six, maximum of fourteen while for a Self-Guided trip, a minimum of two people.