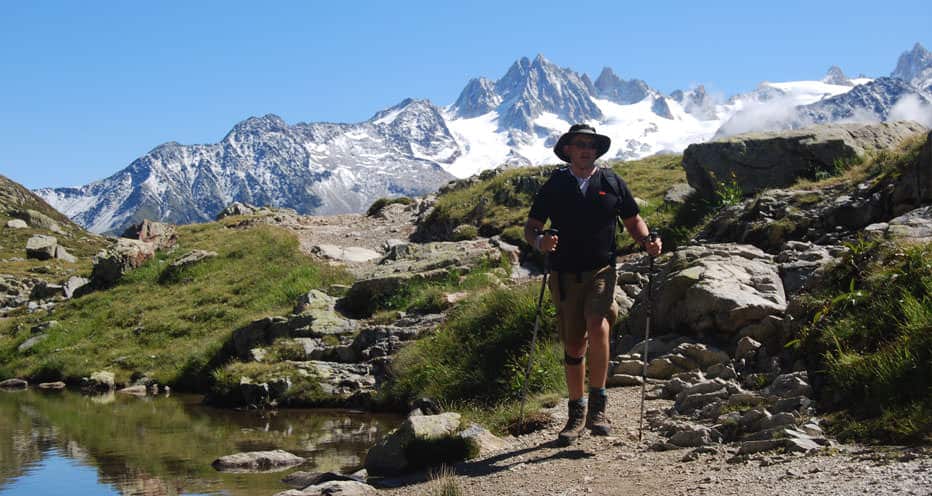 Highlights
The Tour du Mont Blanc is approximately 165km long
Traverse France, Switzerland and Italy on one hiking trail
Trek for 9 days, with a rest day in the middle
Enjoy local food en-route
Hand-picked comfortable family-run hotels
Unforgettable mountain views
Overview
The Tour du Mont Blanc is one of the World's most famous and greatest hiking trails in the world. You will get the chance to experience the best of the Alps;hiking past steep ridges, glacial lakes and flower-filled meadows in France, Italy  and Switzerland.
This spectacular trail will take you around the whole Massif du Mont Blanc.  You will hike across high passes, through Alpine meadows and valleys rich in vegetation. You'll pass through pretty towns and villages with shops where you will enjoy local foods and specialities.
Towns on the Tour du Mont Blanc
Chamonix, France: this is our starting point of the TMB  and has been a magnet for mountaineers, explorers, scientists and hikers for centuries. With a good range of hotels and restaurants, friendly atmosphere and pavement cafés, it is great place to hang out.
Argentiere, France: Situated east of Chamonix, this town is famous for its amazing ski area
Champex, Switzerland: the French speaking side of the Switzerland. It is a typical picture-postcard Swiss village with restaurants and bars and a fabulous view of its lake.
La Fouly, Switzerland: Has small ski resort, with some basic facilities: a few hotels and bars and one minimart.
Courmayeur, Italy: the view of Mont Blanc is spectacular from this side of the mountain. It is much steeper and foreboding. The town has some lovely restaurants and cafés where you can enjoy traditional Italian specialities.
How should I pack for each day?
We will transport your luggage from hotel to hotel, so you only need to carry stuff that you will need for that day. If there is a night where you do not have access to your main luggage, you just need to pack some over-night essentials such as basic toiletries, spare underwear, socks and T shirt.
How old should I be to participate on the Tour du Mont Blanc?
You need to be confident of your fitness: the TMB is a tough multi-day trek. However, children less than eighteen years of age should be accompanied by an adult on the trip.