Mont Blanc du Tacul is one of highest summits of the Mont Blanc massif. At a strikingly huge 4248m, the peak is situated in-between the Aiguille de Midi and the highest point of Mont Blanc itself. As one of the main Mont Blanc summits, the peak is attempted by many climbers all over the world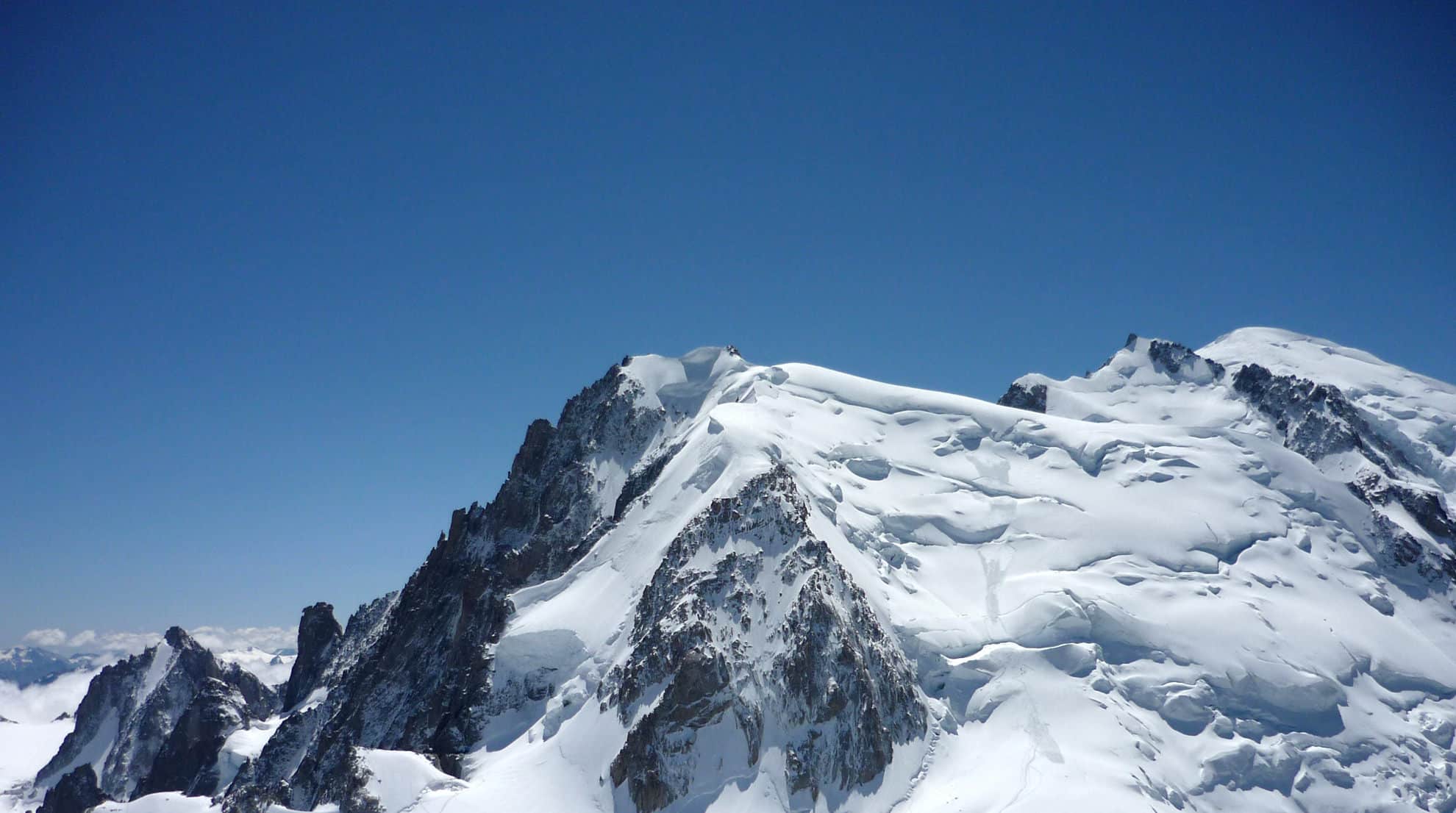 Those not acclimatised by high altitude can often find themselves experiencing health issues – most commonly, frostbite – with temperatures registering at minus thirty degrees centigrade for those attempting the top.
While our trekkers will not climb the peak as part of the tour, our party will learn about the Mont Blanc massif and the range of peaks that make up the main summits. Mont Blanc itself is the tallest, at 4810m, followed by Courmayeur, then the Dome de Gouter at a spectacular 4304m, followed by the icy, glacial wonder, Mont Blanc du Tacul.
The route to this summit is only 2 hours – on average – from the cable car of Aiguille du Midi while climbers have to keep a watchful eye on the quickly changeable and severe weather. These summits are possible to see on a clear day from the Italian Mont Blanc face of Courmayeur and the equivalent town on the French side of the massif – the Valley of Chamonix, Les Chapieux and Les Contamines.
For an even better experience, our seventh day of Salamander Adventures' itinerary schedules a well-earned day off in La Palud, neighbouring the Italian chic town of Courmayeur. From here a state of the art cable car, revolves 360 degrees for a panoramic ascent to the 'Pointe Helbronner'. From here, sightseers and skiers may traverse along the peaks to 'Aiguile de Midi' or back down the sky trail to Chamonix that lies on the French side of the mountain range.
The first group to reached the top of Mont Blanc du Tacul were unguided, completing the ascent from sea level in 1855.The peak is made from a massive glacier, however relatively unexperienced climbers may traverse this ice and snow with a good guide and with altitude conditioning and good weather on their side. The benefits of the cable car on your Tour du Mont Blanc is that you may have the chance to experience the snow topped peaks of the Alpine skies from the comfort of a cable car, experiencing the many off-piste restaurants, bars and auberge to soak up the atmosphere of this stunning part of Europe.
For more information:
https://www.summitpost.org/mont-blanc-du-tacul-subgroup/176215
https://www.ukclimbing.com/logbook/crag.php?id=8577