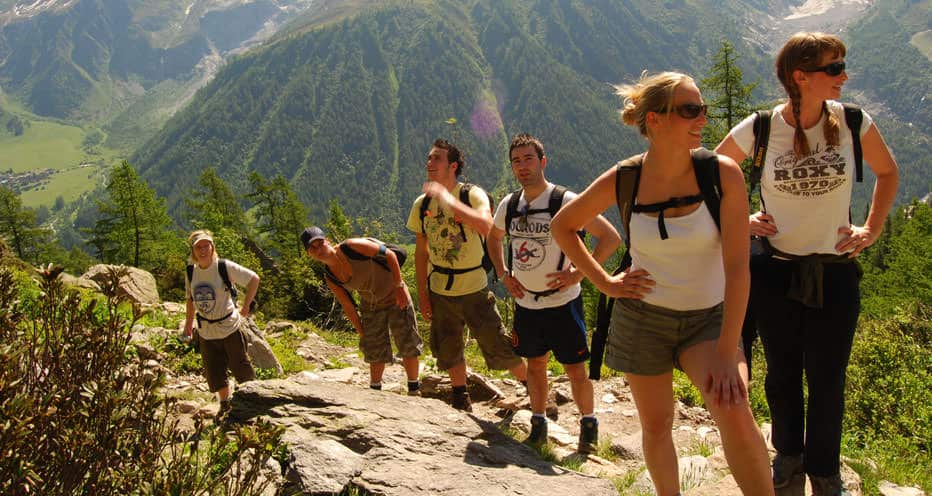 Experience Nature in its Purest Form
Come with us on The Tour du Mont Blanc for a lifetime memory
Or maybe you prefer the crisp alpine air and panoramic expanse that comes with a freshly summited mountain.
Nature is spellbinding and the best life memories are firmly tucked away in the minds of those who explore its amazing adventures.
But getting out into nature and experiencing the thrills offers doesn't have to be trying. No, you don't have to wait; come see nature in its wildest and purest form on a budget tailored for you. On The Tour du Mont Blanc, you'll be fascinated by some of nature's most awesome sights. Indeed, few experiences compare to this tour throughout Southern Europe's untouched wilderness.
The fauna and flora are a sight to behold. Take in the nature-fresh alpine air as you trek the winding spectacle of the 110 mile-long Mont Blanc massif, crisscrossing three countries: Switzerland, Italy and France. Listen to the gentle sounds of rushing streams. Take timeless photographs of deer, eagles, ibex and chamois in their natural habitat as you climb the 6.2 mile ascent of the snow-capped 'White Mountain'.
And as you reach the summit, inhale the wonders of the breathtaking scenery of the Mont Blanc, also called 'the Roof of Europe' because of its panoramic view of the Aiguilles Rouges mountain ranges and the Chamonix Valley.
Salamander Adventures provide experienced and convenient tour guide to give you and the whole family an unforgettable memory of leisure hiking this holiday. Since 2007, when Phil Mansbridge set up Salamander after 20 years as a trekking guide, we have become the preferred choice of holiday goers on The Tour du Mont Blanc.
We offer tourists key advantages for their maximum comfort, security and touring experience:
Experienced Staff
Prior to joining our team, our key staff has worked for some of the world's leading tour guide companies like Exodus, Explore and Trailfinders. Combined with our 30+ years experience organizing adventure treks for about 150 people globally each year, Salamander Adventures is your go-to partner for your next holiday plans.
We Are Located in Chamonix!
We have an office in Sussex, at the foot of the South Downs, and we also have a base in the traditional village of Chamonix nestled against the majestic summit of Mont Blanc.
Competitive Price
We're committed to ensuring you have a memorable experience, and our long, solid relationships with local hotels allows us to maintain this promise. We deal directly with you while offering you the best value rates in the market.
Your money is safe
When you book with us, your money is kept safe in a trust account managed by the Travel Trust Association (TTA). We first guarantee you have successfully completed your trip before we have access to your money.
Call us today on 01273 256753 or Email Us for an unforgettable tour on The Tour du Mont Blanc and experience spectacle of nature in its purest form! Read some amazing testimonials here.
Whether you opt for the Guided Tour du Mont Blanc, Self Guided Tour du Mont Blanc or the Self-Guided Budget TMB, with Salamander Adventures you are guaranteed an amazing experience!