The French and Italian border travels through the very peak of The Pointe Helbronner. A stunning 3,462m or 11,358ft in height, this mountain is a notable summit that gained its moniker after the alpinist and cartography pioneer, Paul Helbronner.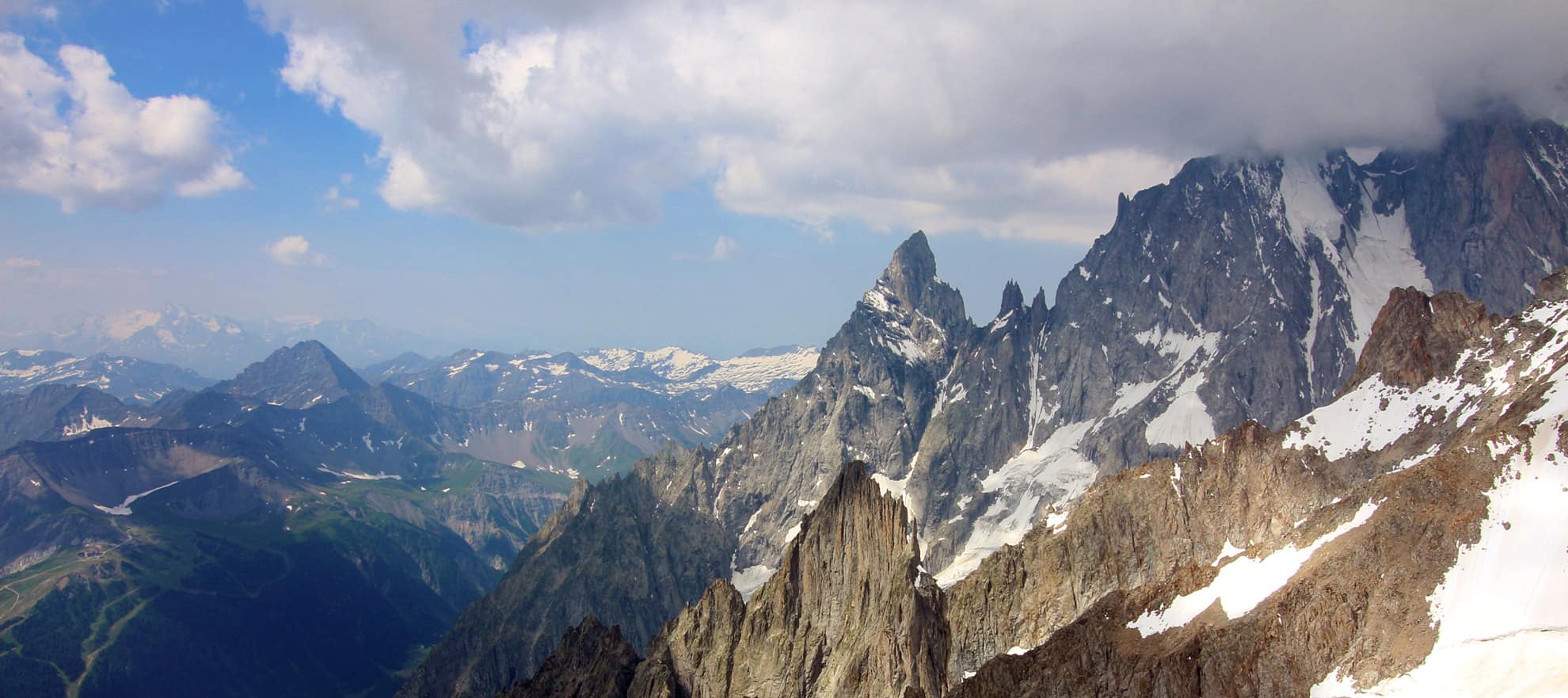 The mainstay of the Helbronner summit is that its position as the highest point between the French and Italian faces of the Mont Blanc massif. can be reached by cable cars from both sides – the French and Italian mountain face of Mont Blanc. La Palud, the destination of your
itinerary
day off offers a cable car to the highest point for non-mountaineers.
This state of the art sky trail was finished in 2015 and not only takes to the Helbronner summit, but traverses between mountain tops from the Helbronner peak to the Aiguille du Midi – a spectacular ride travelling a vast 5km across the snow-capped heavens. The cable car connecting to the Aiguille du Midi peak can then be used to access the Chamonix resort, the French equivalent to Courmayeur on the other side of the mountain face. The Monte Bianco station platform on Pointe Helbronner offers a remarkable view over the Aosta Valley region.
With many facilities for skiing and other winter sports, both 'sister' towns on each side of the Point Helbronner border also hold a wealth of cultural off-piste activities, making each resort incredible destinations for trekkers and non-skiers alike. Mountaineers with their sights set on Mont Blanc's sublime summits take refuge in the nearby Refuge Terino.
The Salamander Adventures' organised Tour du Mont Blanc provides an exciting, well versed itinerary, created by experts and guided, when booked, by the very best and most knowledgeable staff. The eleven days of trekking will not only challenge your fitness and reserve, furthering your sense of determination and adventure, but will also take you through three, wonderful, awe-inspiring countries, each with their own architecture, art and traditional food.
Beginning in Argentieres, the clockwise tour traverses and meanders through quaint Swiss villages and beyond, providing rest in the chic town of Courmayeur in Italy before the round trip home.
For more information about Pointe Helbronner please check out:
https://en.wikipedia.org/wiki/Col_du_Bonhomme
https://www.chamonix.net/english/news/helbronner-cable-car-opening