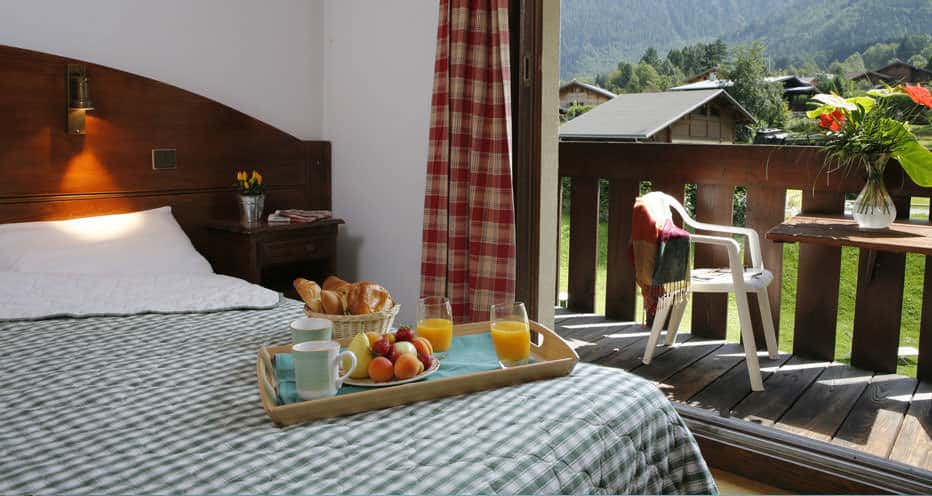 Chamonix and Courmayeur
Both Chamonix and Courmayeur are premier ski destinations and, as such, have a great range of hotels from simple bed and breakfasts to international-standard five star hotels. Both towns also command higher prices owing to their popularity and so it pays to shop around before committing to a particular hotel.
The Chamonix valley is 20km long and encompasses the villages of les Houches, les Bossons, les Praz, Argentiere and le Tour. The other villages tend to have slightly cheaper hotels and can provide a much-welcome peaceful hotel night compared the bustle of Chamonix. In the height of summer, Chamonix is very crowded. In Chamonix you can find a twin room for as little as €100-120 per night in the summer, but much more if you opt for higher-end accommodation. Chamonix itself is not large – you can walk across it in ten minutes – but be sure that your hotel is fairly central or on a bus route leading to town. Some hotels may seem very good value and then you find you have to walk half an hour to find a restaurant for dinner! In addition, the trains and public buses stop running around 7pm every night.
Chalets serving bed and breakfast are also a very good option as they tend to be fairly small and friendlier, with 4-8 bedrooms and run by a family. They often have a lounge area, gardens and facilities for drying wet clothes.
Courmayeur is an upmarket ski resort and, consequently, the hotels tend to be quite expensive. Most of them are three to five star and it is difficult to find an economy hotel. That said, it is a very nice town with cafés, restaurants and shops. La Palud, which is just 3km from Courmayeur is a much better alternative and is directly on the Tour du Mont Blanc. The hotels are slightly cheaper and there are plenty of walking options on their doorsteps.
Trient, La Forclaz, Champex Lac, La Fouly
On a classic TMB you will spend three nights in Switzerland at La Fouly, Champex Lac and either Col de la Forclaz or Trient. Champex Lac, in particular, is a beautiful place to stay and it is worth considering spending a rest day by the lake. Although it is a sleepy town, it is relaxed, there are lots of short walks and you could take the 30 minute bus to Martigny to visit the world famous art gallery that has previously had exhibitions by Matisse and Picasso. There is a good choice of hotels in Champex, some by the lake and other set with views over the magnificent Val Ferret. The choice at La Fouly is limited and even more so at Trient and Col de la Forclaz. At the latter two places the quality is not particularly great, but fine for one night and the meals tend to be good.
Les Chapieux and Les Contamines
Les Contamines is spread out over 2km along the valley bottom and has a handful of hotels. There are also hotels in le Lay, on the outskirts of the town. Les Contamines is a ski resort and there are many apartments, but these are not generally available to trekkers.
Les Chapieux is a tiny hamlet and presently has just two Auberges that gets booked up very quickly. The larger one has three large dorms and 11 smaller rooms with 2-6 beds. The smaller one has room for 18 people in rooms for 2, 3 and 4 people. 4km from Les Chapieux and also directly on the TMB is la Ville des Glaciers that has a refuge and a separate block with twin rooms. This is good alternative if Les Chapieux is full.