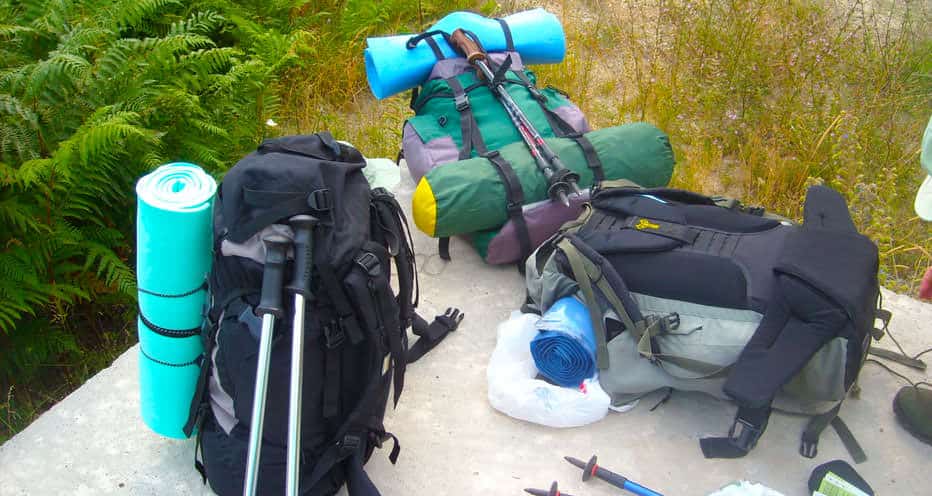 The Tour du Mont Blanc is a big trek so you need to make sure that you have the correct equipment to get the most out of your trip. Good
planning
will mean you don't take too much or too little.
How much to carry
The best option is to carry as little as possible without compromising on your safety or comfort. There is no point in carrying things that you will not use or barely use. People tend to bring too many toiletries, unessential items and heavy equipment when lighter options are available. Obviously, it is a lot easier if you are hiking from hotel to hotel and your main luggage is transferred for you by your local agent. However, some people prefer to do it all themselves including carrying full camping gear!
Fully-guided treks in hotels
Generally fully-guided treks, staying at good hotels, offer luggage transfers on most or all of the nights. A van will turn up in the morning and transfer your main luggage to your next hotel which means that you can trek with just your day sack. Your day sack will have full waterproofs, warm jacket, gloves, warm hat, camera, phone, sun cream in addition to the clothes you set out in. You may also have your picnic lunch and a small First Aid kit. A 30 litre rucsac will be adequate, but 40 litre is recommended.
Self-Guided treks booked via a hiking company
The amount of luggage transfers included in the package you have will vary from agent to agent. Some will do a transfer every day (expensive) and some will do a few luggage drops throughout the trek (cheaper). You will need to plan what clothes, underwear, socks and toiletries you will need when you don't have a luggage drop.
Hotels and auberges have clean bedding and bathrooms with showers and towels. If you are staying in refuges (mountain huts) you will need to bring a towel and may like to bring a sheet sleeping bag for extra comfort as the bedding is not changed every day.
Tour du Mont Blanc camping
Some people like to camp when doing the Tour du Mont Blanc. You can either do it with a trekking agency that will transfer you main luggage and tent every day or do it by yourself and carry everything. If you choose to go it alone, food and gas is readily available to buy on most nightstops and so you only need to carry the essentials. However, carrying a heavy pack with full camping gear and personal hiking equipment can be very hard work: most days on the Tour du Mont Blanc are long and involve crossing high passes and this can be particularly tough when the weather is hot or very wet.
Essential things for the Tour Du Mont Blanc
Good walking boots (leather or fabric, must be waterproof)
Good quality waterproof rain coat and trousers
Shorts and T shirts, walking trousers and /or skirts.
Warm tops (fleece jacket, jumper or a pullover)
Sun hat, sun cream, lip balm and sunglasses (for very bright conditions)
Warm woolly hat and gloves
Walking poles
Water bottle
Picnic
Phone
Torch
Blister kit
Personal medication
Camera
For a guided trek or a self-guided trek with a trekking agent, a 40 litre rucksack is about the right size.
To get more details about our Tour Du Mont Blanc arrangements, contact us via our online form.
You may also speak to us directly on 01273 256753