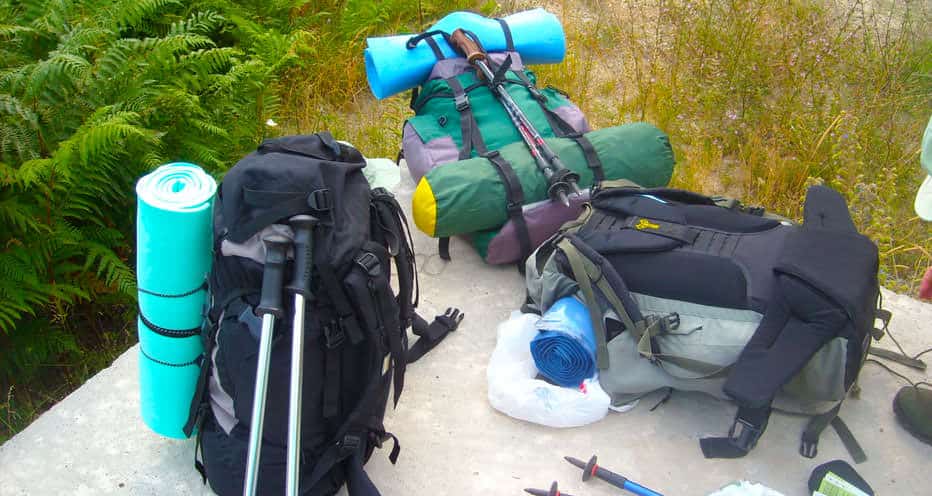 PLEASE NOTE THAT WE DO NOT OFFER A LUGGAGE ONLY TRANSFER SERVICE.
WE ONLY TRANSFER LUGGAGE FOR CLIENTS WHO HAVE BOOKED A TMB HOLIDAY PACKAGE WITH US.
The Tour du Mont Blanc is a big trek so you need to make sure that you have the correct equipment to get the most out of your trip. Good planning will mean you don't take too much or too little.
How much to carry
The best option is to carry as little as possible without compromising on your safety or comfort. There is no point in carrying things that you will not use or barely use. People tend to bring too many toiletries, unessential items and heavy equipment when lighter options are available. With Salamander Adventures on most days your main luggage is transferred to your next hotel ready for your arrival. We recommend that on the days you do not have access to your luggage you will need to carry your overnight gear, which will most likely include spare socks, underwear, T-shirt and basic toiletries. This is light back-packing and we recommend you have a 40 litre rucsac
Fully-guided treks staying in hotels
On our fully-guided treks, staying at good hotels, we offer luggage transfers on most of the nights. A van will arrive in the morning and transfer your main luggage to your next hotel which means that you can trek with just your day sack.
We do not transfer your luggage to every night stop as we feel it adheres more closely to a traditional trek. In addition, more luggage transfers are environmentally unsound and it adds a great deal to the cost of the tour as some of the drives are 5 hour round-trips. Please restrict the weight of your main luggage to 20kg. This helps us with the luggage transfers. We strongly recommend that you do not leave any valuables or any object of high value in your main luggage.
Your day sack will need to have full waterproofs, warm jacket, gloves, warm hat, camera, phone, sun cream in addition to the clothes you set out in. A small First Aid kit and blister pack can be useful. A 40 litre back pack is recommended.
Self-Guided treks staying in hotels
At Salamander Adventures we offer the same luggage transfer for clients on the self guided trek as on the guided trek. However, you will need to take your own picnic lunches each day so you need to take this into account when purchasing heavier items to eat!
Essential equipment for TMB
Good walking boots: leather or fabric and should be worn-in before you arrive
Approach shoes are acceptable, but you may well have to cross shallow streams and snow early in the season and so will get wet feet
Full set of good-quality waterproofs. Gore-Tex or e-Vent recommended: a 'pac-a-mac' is not good enough
Walking trousers or skirt
Shorts
T-shirts
Warmer tops that includes a jumper or fleece jacket
Sun hat, sun cream, sunglasses
Warm woolly hat and gloves
Rucsac with enough room to carry a few clothes plus other items for the periods when you do not have access to your main luggage: 40 litres is recommended
Water bottle
Recommended for TMB
Walking poles, particularly useful in the early season when crossing old winter snow
Torch
Blister kit
Personal medicine
Camera
For a guided trek or a self-guided trek, a 40 litre rucsac is recommended.
To get more details about our Tour du Mont Blanc contact us via our online form.
You may also speak to us directly on 01273 256753