Safety tips for the Tour du Mont Blanc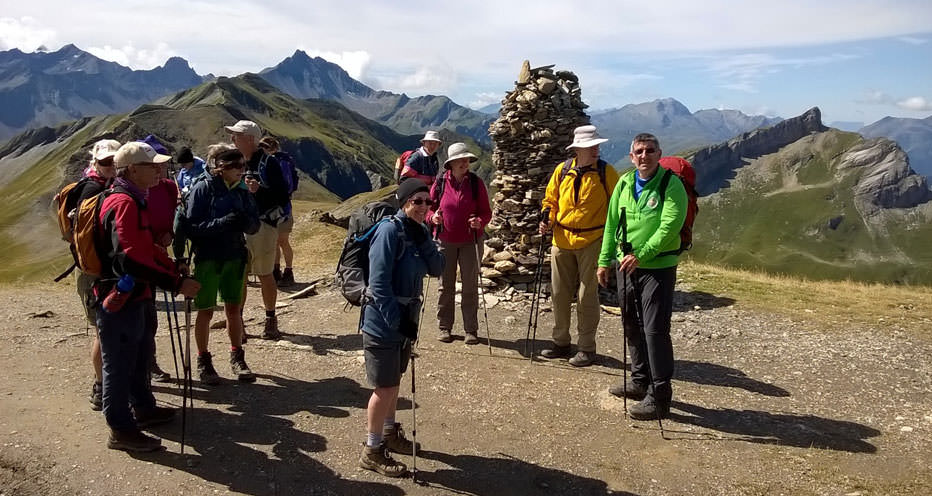 Get into Shape
It may seem obvious to get fit in advance of your trip, but a lot of people underestimate the Tour du Mont Blanc and overestimate their fitness. The TMB is a challenging trek, when you will walk 6-8 hours each day. Physical fitness is vital to enjoy and complete the trek.
If you take regular walking weekends and are happy covering 16-22km (10-14 miles) each day, with a number of ascents and descents, you will comfortably finish our treks. If you have a sedentary lifestyle and go on short walks once a month you will need to get much fitter in advance. Most of the ascents and descents are not steep, but on some days you will climb and descend up to 1000m.
Tour du Mont Blanc with a Guide
If you are a first-time trekker or prefer the security from a mountain guide you should go on a guided Tour du Mont Blanc. They are highly trained, know the mountains well and offer pragmatic solutions if weather turns bad or someone has an accident.
Dress Appropriately
Weather and temperature in and around the Mont Blanc massif can be unpredictable, so it's advisable to come prepared for any eventuality.
Ideally, you should wear T-shirts and shorts for the trek, but be prepared for colder or wetter weather: pack full waterproofs and warmer clothes, such as fleece jackets, woolen hats and gloves, and walking trousers.
Your boots should be well worn and have good ankle support. Ensure that they fit well and comfortably. You may like to have a pair of other shoes or flip-flops for the evenings.
Equipment and Gear
Essential equipment for TMB
Good walking boots: leather or fabric and should be worn-in before you arrive
Approach shoes are acceptable, but you may well have to cross shallow streams and snow early in the season and so will get wet feet
Full set of good-quality waterproofs. Gore-Tex or e-Vent recommended: a 'pac-a-mac' is not good enough
Walking trousers or skirt
Shorts
T-shirts
Warmer tops that includes a jumper or fleece jacket
Sun hat, sun cream, sunglasses
Warm woolly hat and gloves
Rucsac with enough room to carry a few clothes plus other items for the periods when you do not have access to your main luggage: 40 litres is recommended
Water bottle
Recommended for TMB
Walking poles, particularly useful in the early season when crossing old winter snow
Torch
Blister kit
Personal medicine
Camera
Food and Water
Always drink enough water: water bottles can always be filled along the way. Take plenty of spare snacks and eat well at meal times. It's not the time to start a diet!
Safety & hazards on the Tour du Mont Blanc
The Tour du Mont Blanc follows a well-established trail and many of the pathways are sign-posted. However, parts of it cross through some wild and remote mountain areas and you should be aware that mountains can be hostile places. You should take special care and attention if you cross any streams: these can quickly become hazardous, particularly if a rain storm is combined with early-season snow melt. Special attention must be paid to the weather. Rain storms, lightning, fog, mist and even snow are not common – but not unusual – and you need to be able to safely navigate in these conditions. Snow can be a particular hazard of early summer, where whole sections of the route at higher altitudes – particularly at mountain passes – may be covered winter snow. The possibility of collapsing snow bridges, or a slip that may result in a long slide, can both cause serious accidents. You should be confident that you can safely and competently cross snow; if you are not confident you should not attempt it and either take a different route or public transport.
If you choose a self-guided Tour du Mont Blanc we will supply you with Route Notes for the trek, but these must be used in conjunction with a good map and your own previous mountain experience. You should know how to confidently use and interpret a map and compass – particularly in poor weather.
The emergency services number in Europe is 112.
Emergency and First aid
Try to avoid blisters as soon as you can; if you feel any soreness or have a 'hot-spot' deal with it ASAP. Gaffer tape is excellent for protecting your feet.
In case of accident:
Administer First Aid, but always within the limits of your skills and knowledge.
Determine your position and note the grid reference on your map.
Call for help. Use your mobile phone if you have one. If you don't, then blow a whistle, or flash your torch (the international distress call is six blasts or flashes).
If you're part of a group, leave at least one person with the injured party while the rest go in search of help. If there are only two of you, then you need to consider carefully whether it's safe to leave the injured party alone. If you do, make sure to leave behind some food, water and warm clothing for the injured party.
Given the popularity of the Tour du Mont Blanc, getting help in emergency situations is not too difficult, however, mobile phone reception is very poor or non-existent between the sections that go from Courmayeur to Les Chapieux to Les Contamines. In case of an accident, calling the mountain rescue in this area can be seriously delayed and you will rely on telephone landlines at the refuges that are located intermittently along the main TMB trail.