Safety Tips for your Tour du Mont Blanc trek Excursions through the mountains are filled with dangers and hazards, and the Tour du Mont Blanc is no exception. However, with awareness and proper preparation, you can greatly minimize your exposure to risk and have a safe Tour du Mont Blanc..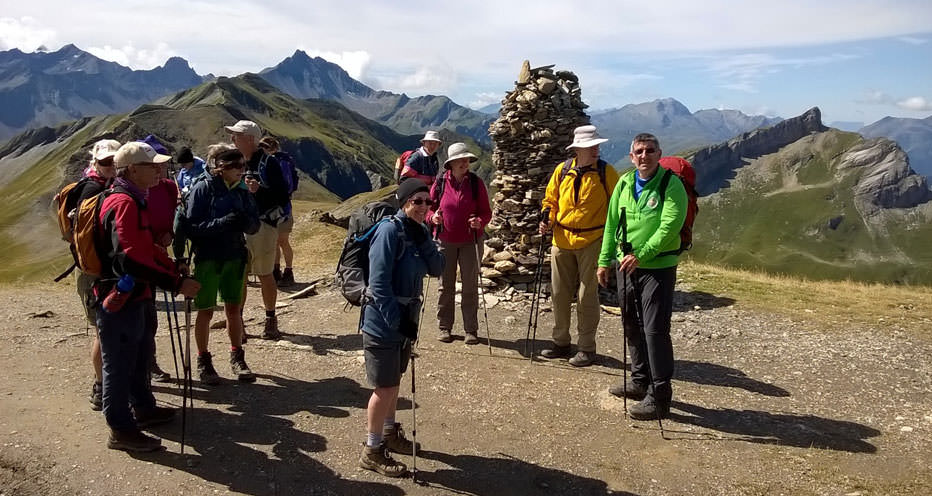 Read up on the trip notes provided for you to know what you're up against. Do some research on the Tour Du month Blanc, learning as much as you can about the geography, the potential hazards and safety procedures.
You may also consult your doctor before travel. Make sure you have enough stock of any regular medication you take, as well as blister plasters and anti-inflammatories. Make sure your doctor is happy that it is safe for you to tackle the Tour Du Month Blanc.
Get into Shape
The Tour du Mont Blanc is a very demanding trek, in which participants walk 6-7 hours each day. Physical fitness is vital if you wish to participate, enjoy and complete the trek.
If you're not used to mountain walking, or any kind of long distance walks, then you need to get into practice.
Take five hour walks every weekend for three months before attempting the Tour du Mont Blanc, increasing the amount of walking each weekend. We recommend doing these walks as much as possible with your complete walking gear. The more your practice terrain mirrors a mountainous terrain, the better. In addition to your walks, do some cardiovascular exercise three times a week. Your health and safety on the Tour du Mont Blanc depends on your physical fitness.
Do your best to arrive a few days early for your trip, in order to familiarize yourself with the walking conditions with some short excursions of your own.
Follow the Leader to Safety on the Mont Blanc Tor
For those taking the guided tour, it is vital that you always listen to your guide and obey his instructions. He has the experience to lead you safely through to the end of your trip around the Mont Blank massif.
Dress Appropriately
Weather and temperature in and around the Mont Blanc massif can be unpredictable, so it's advisable to come prepared for any eventuality.
Ideally, you should wear T-shirts and shorts for the trek, but also pack waterproof and warmer wear, such as jumpers, fleece jackets, woolen hats and gloves, and walking trousers or skirts. Sun hats and sunglasses are also recommended.
Your boots should be well worn and have good ankle support. Ensure that they fit well and comfortably. You should have a pair of other shoes for the evenings.
Equipment and Gear
Bring along the following:
A good trekking pole or two,
Water bottle,
Sun cream,
Gaiters,
Crampons, and
A rucksack to carry all your items and extra clothes.
Be conscious of the weight you carry on your person so that it doesn't wear you down on your trip.
We also strongly recommend bringing along:
A torch (with spare batteries)
First aid kit (including blister kit)
Personal medicine
Map and guidebook
Camera
Mobile phone
Whistle
Food and Water
Always drink enough water, since you lose a lot of water during the trek. Water bottles can always be refilled at your accommodations or natural springs along the way.
Knowing what to eat and when to eat it is also vital to a successful and safe Tour du Mont Blanc. For example, for breakfast you could have bread and cereals, while your afternoon meal could consist of high-energy food and fruits like bananas, tuna sandwiches and chocolate. For dinner you could enjoy a meal rich in carbohydrates, like pasta. The wrong food can mean low energy and other problems.
Safety on the Tour du Mont Blanc
As already mentioned, always defer to your guide.
You should have certain information always at your fingertips, such as the emergency number in Europe (112).
Always monitor the avalanche forecast. Never set out immediately after a storm, as this period is when avalanches are most likely to occur.
Avoid the really steep slopes as much as possible.
When crossing rivers or deep streams, always face upstream, using your trekking pole to increase your stability. Crossing barefooted is discouraged, since the soles of boots can provide better grip on slippery rocks.
When walking on glaciers, always be on the lookout for seracs – blocks of glacial ice the size of a house, or even larger – which can topple down without warning.
Emergency and First aid
In the case of blisters, always apply dressings at once, before it becomes painful enough to hinder your trek.
In cases of accidents,
Administer first aid, but always within the limits of your skills and knowledge.
Determine your position and note the grid reference on your map.
Call for help. Use your mobile phone if you have one. If you don't, then blow a whistle, or flash your torch (the international distress call is six blasts or flashes).
If you're part of a group, leave at least one person with the injured party while the rest go in search of help. If there are only two of you, then you need to consider carefully whether it's safe to leave the injured party alone. If you do, make sure to leave behind some food, water and warm clothing for the injured party.
Given the popularity of the Tour du Mont Blanc, getting help in emergency situations is not very difficult.
The suggestions given here are by no means exhaustive, but are the bare minimum. Always do additional research. There are many ways, old and new, to stay safe, and it never hurts to know as many as you can.