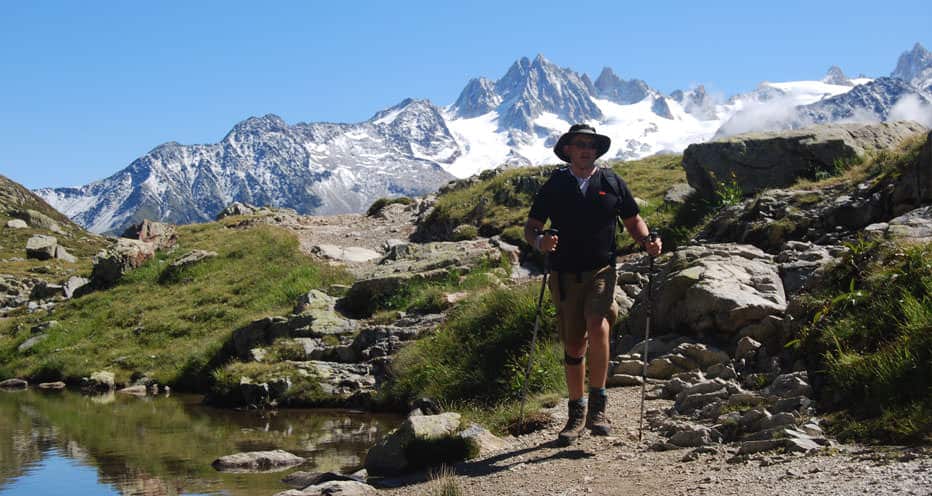 Adventure seekers can't help but add the beautiful mountainous massif to their bucket list. But how mountainous is the Tour du Mont Blanc really? What is the highest point of the Tour du Mont Blanc?
The Highest point of Tour du Mont Blanc
The TMB trek circles the Mont Blanc massif, starting and ending at the historic Chamonix valley, located at the base of Mont Blanc in the French Alps. The tour extends from France through Italy and Switzerland on its route to Mont Blanc.
Anybody embarking on the trail hikes through 165 km, ascends almost 10 km, and covers five major mountain passes before completing at the valley.
The lowest point on the Tour du Mont Blanc is 1000 metres (3300 ft.) and the highest point on the trek is around 2600 metres (8500 ft.) – a stunning overnight stop point on the Mont Blanc trek. Generally, trekkers walk for an average of 6-7 hours each day and finish the tour after 10 days. Truly amazing!
Get to the Highest Point via our Tour
At Salamander Adventures, you can experience, first-hand, the Tour du Mont Blanc in all it breath-taking beauty by registering on one of our affordable packages.
We have a team of experienced mountain guides and comfortable family-run hotels to serve you during the period of your trekking adventure.
For first-time trekkers, you may want to use our guided tour which is led by our qualified mountain leaders. It accommodates a small group of trekkers (6 – 14 people) and affords a picturesque view of the mountains.
If you have been on similar mountain hikes and would prefer some independence, then our self-guided tour is suitable for you. It requires a minimum of two people and provides the comfort of family-run hotels.
People who want a budget backpacking experience often register our budget Tour du Mont Blanc. If you enjoy the fun of a dorm experience and an independent tour, you will get it with this package. What's more, you traverse the same scenic route and have the opportunity to eat at the numerous refuge diners along the tour.
Why Choose Salamander Adventures?
We have 30 years of experience running adventure holidays worldwide. We specialise in Tour du Mont Blanc and are responsible for organising the treks of 150 people every year.
Our tour guides are not only experienced, but qualified internationally as mountain leaders. Salamander Adventures also offers affordable rates in various packages you can choose from.
Why not climb your way to the Tour du Mont Blanc's highest point with us? We promise you an experience you will always remember.
Call us on 01273 256753 for more details or send us an email here.