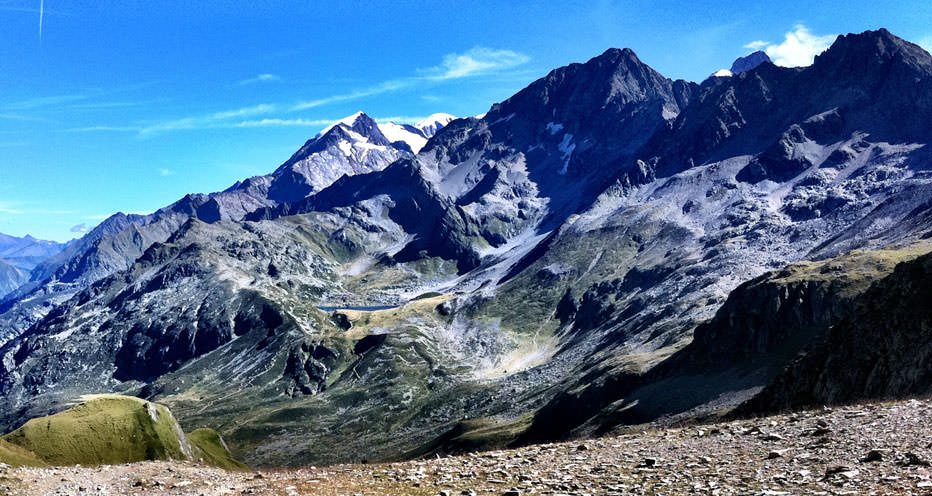 Mont Blanc is Western Europe's highest peak (4807m/15,771ft) and the Tour du Mont Blanc circumnavigates the whole massif. The Tour du Mont Blanc passes through France, Switzerland and Italy and provides spectacular views of soaring mountainous peaks, valleys, lakes, winding rivers and paths. The total trekking distance is 165 km with big ascents and descents over mountain passes. It is considered to be one of the world's classic long-distance hiking trails.
At Salamander Adventures, we offer guided and self-guided TMBs. Each package has different inclusions, but both stay at the same good-quality hotels. We do not stay at mountain huts of refuges.
Guided Tour du Mont
This is a fully guided trek that is led by an accredited International Mountain Leader. We arrange small tour groups with a maximum of 14 people. On the TMB we normally walk for between 6 and 8 hours each day and be outdoors for 8 or 9 hours. We generally follow good, well-maintained paths and the highest altitude we walk to is 2537 metres, so you should not feel the altitude apart from a little shortness of breath. In late June and early July, we may encounter patches of snow, particularly at the cols, and may have to kick steps to make the path secure. You will be in twin-bedded rooms throughout, though occasionally there may be more than two in a room at the auberge at Les Chapieux.
Many people choose to trek anti-clockwise. However, over many years we have concluded that you are better hiking clockwise. If you go anti-clockwise you cross three huge mountain passes at the beginning of the trip: this means a lot of physical effort when you are just finding your trekking feet and getting used to the higher altitudes. In addition, our hotel owners report that many hikers are anxious about being able to cross these passes – particularly between Les Contamines and Les Chapieux – and the atmosphere at the hotels is tense. By travelling clockwise, the first few days of the trek are easier, and you get fitter and acclimatized without the stress. It means that crossing the big passes on the last three days are much more enjoyable.
This trek is ideal for people who want the reassurance of an experienced mountain guide on a challenging trek over 11 days.
Self-guided Tour du Mont Blanc
For experienced mountain trekkers who want a bit more independence on their trip, a self-guided tour is possibly more suitable for their requirements. Like the guided tour, it offers the same 165 km walking distance, scenic views of the massifs, charming little villages and comfortable hotels.
The Tour du Mont Blanc follows a well-established trail and many of the pathways are sign-posted. However, parts of it cross through some wild and remote mountain areas and you should be aware that mountains can be hostile places. You should take special care and attention if you cross any streams: these can quickly become hazardous, particularly if a rain storm is combined with early-season snow melt. Special attention must be paid to the weather. Rain storms, lightning, fog, mist and even snow are not common – but not unusual – and you need to be able to safely navigate in these conditions. Snow can be a particular hazard of early summer, where whole sections of the route at higher altitudes – particularly at mountain passes – may be covered winter snow. The possibility of collapsing snow bridges, or a slip that may result in a long slide, can both cause serious accidents. You should be confident that you can safely and competently cross snow; if you are not confident you should not attempt it and either take a different route or public transport. We will supply you with Route Notes for the trek, but these must be used in conjunction with a good map and your own previous mountain experience. You should know how to confidently use and interpret a map and compass – particularly in poor weather. Mobile phone reception is very poor or non-existent between the sections that go from Courmayeur to Les Chapieux to Les Contamines. In case of an accident, calling the mountain rescue in this area can be seriously delayed and you will rely on telephone landlines at the refuges that are located intermittently along the main TMB trail. You are responsible for your own actions and safety and you should join this trip with suitable mountain skills and previous mountain experience. If you do not feel confident you should book one of our Guided TMBs.
Both the Guided TMB and Self-guided TMB are ideal for individuals, couples, small traveling parties and families with children over 14 years old but with good walking experience.
Click here to email us.
Or call us for more details – 01273 256753