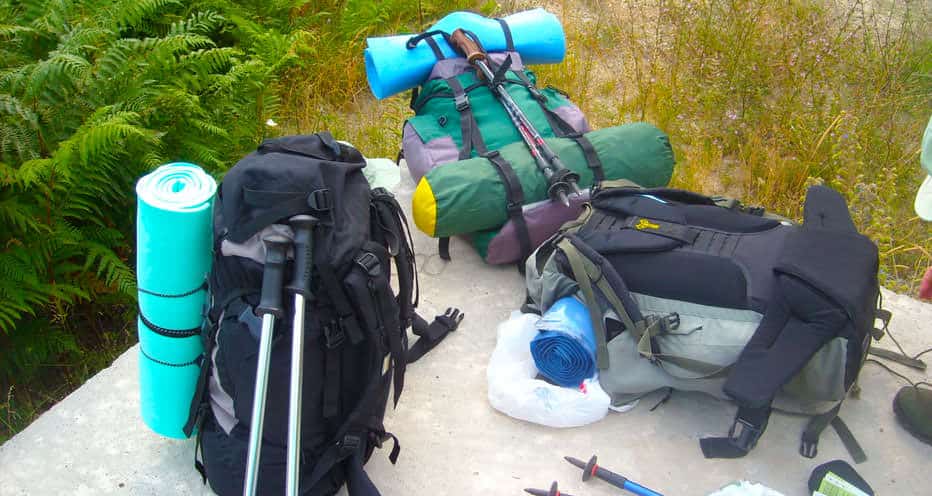 Recommended Tour du Mont Blanc Clothing
A hat—one that has a brim is ideal for protecting your face and ears from UV.
A raingear set—a poncho is highly recommended. Ordinarily, this wouldn't be needed, but when you consider the fickle weather of mountains, it becomes very useful to prevent an unbidden cold rainfall from drenching you.
Two or three pairs of pants. One or two should be synthetic hiking trousers or shorts.
Two to three T-shirts that can wick moisture away from the skin and a long-sleeve shirt.
Two or three pairs of woollen hiking socks.
One lightweight and one mid-weight fleece sweaters or vests. For the mid-weight one, you can get a soft-shell jacket instead.
A pair of trekking poles is recommended for propulsion, stability, and balance.
You may also bring a pair of gloves, lightweight gaiters, and a knit hat for cold weather. A headband can help your ears retain warmth, and sleepwear will be handy if you are going to stay in mountain huts or shared rooms at night.
Recommended Tour du Mont Blanc Gear
Sunglasses to protect your eyes from UV.
A hydration bladder or a water bottle (one litre at least).
A headlamp for visibility in the night and in case you encounter fog cover.
A rescue whistle will be helpful if you get separated from your group in fog.
Toiletries–including toothpaste, toothbrush, lip balm, deodorant, sunscreen, and a razor. Most hotels along the Tour du Mont Blanc route have pressing irons and hair dryers. You might want to bring shampoo, soap, and body gel, too. Although they are available at hotels, mountain huts may not provide them.
Get a towel and a detergent for washing your clothes.
Those are the basic things you need on the Tour du Mont Blanc. However, you may also come with your smartphone, a camera for capturing the awe-inspiring sights, ear plugs, something to read, and a sleeping sheet.
Recommended Tour du Mont Blanc Group Gear
If you elect Salamander Adventures' Guided Tour du Mont Blanc package, then the guide we will provide you and your group will carry these items.
A smartphone for making rescue calls, should the need arise.
A fully equipped first aid kit.
A functional compass and an altimeter.
Water purification tablets.
Field guides and trail map(s).
If, however, you are trekking unguided, then you ought to carry the above-listed gear.
These items can save your life during your Tour du Mont Blanc and even help you feel more comfortable throughout the trek. So as you join Salamander Adventures on the Tour du Mont Blanc, be sure to pack as many of them as you can.