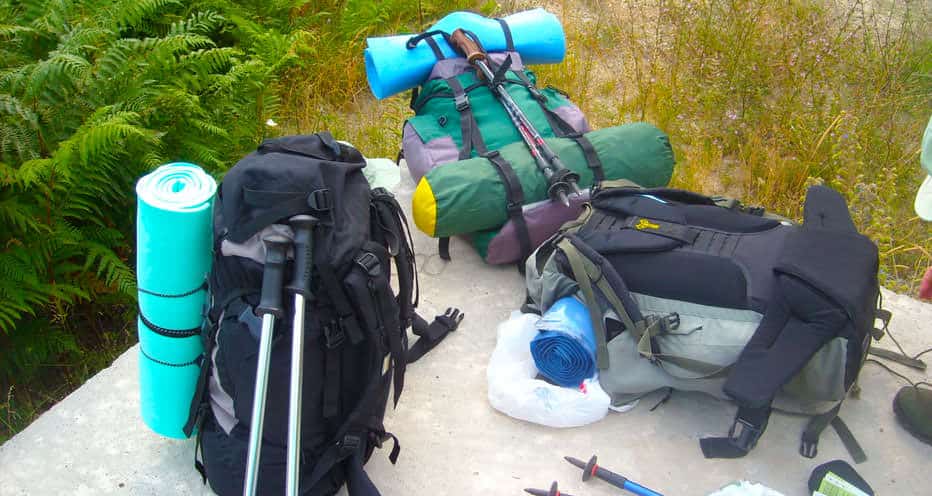 Essential equipment for the Tour du Mont Blanc
A pair of good quality boots and another set of shoes you can wear at the end of each day's hike and when in town. Make sure that the boots have quality soles and should be worn in before you arrive. 
A multipurpose

backpack

. 40 litres is recommended.
A hat—one that has a brim is ideal for protecting your face and ears from UV. 
A full set of good-quality waterproofs. Gore-Tex or e-Vent recommended: a 'pac-a-mac' is not good enoughTwo or three pairs of walking trousers or skirts and shorts. One or two should be synthetic hiking trousers or shorts.Two to three T-shirts that can absorb moisture away from the skin and a long-sleeve shirt.Two or three pairs of woollen hiking socks.Warmer tops that includes lightweight jumpers and one mid-weight fleece sweaters or vests.
A pair of

trekking

poles is recommended for early-season TMBs to help cross snow patches at the mountain passes.
You may also bring a pair of gloves, lightweight gaiters, and a warm hat for cold weather.
Recommended equipment for the Tour du Mont Blanc
Good quality sunglasses to protect your eyes from higher levels of UV. 
A hydration bladder or a water bottle (one litre at least). 
A rescue whistle will be helpful if you get separated from your group in fog. 
Toiletries–including toothpaste, toothbrush, lip balm, deodorant, sunscreen, and a razor. Most hotels have soap and shower gel, but you won't get it at Les Chapieux.
Towel and a detergent for washing your clothes.
 smartphone, camera, ear plugs, something to read, and a sleeping sheet for any night in refuges.