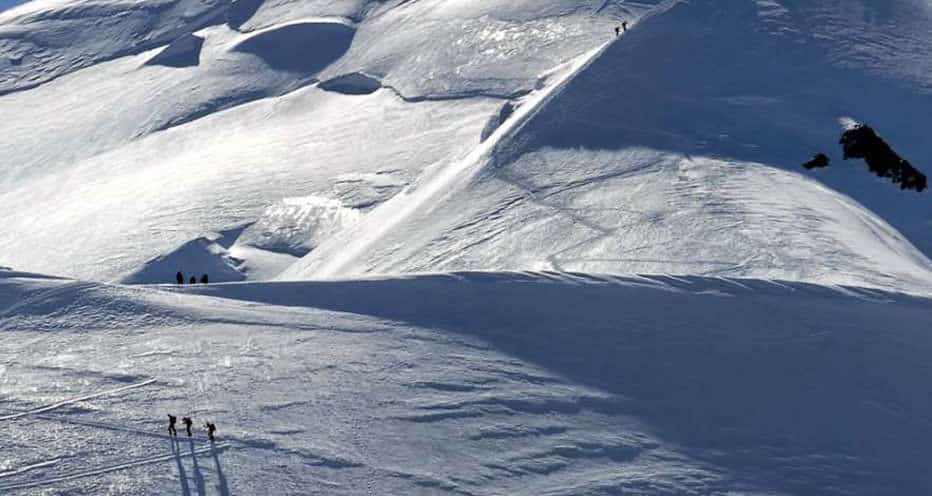 Generally, the months of June, July, August, and September have the most favourable weather conditions, with a nice average temperature. July is the warmest, while January is the coldest. April and August are the driest and wettest, respectively.
Tour du Mont Blanc Autumn Weather Conditions
Temperature hovers between 20°C on September days and 2°C on October nights. Daily sunshine gradually reduces from 6 hours to 5 hours, and monthly precipitation eases to around 45mm per month.
During this season, the crowd of summer hikers greatly diminishes as the high passes along the Tour du Mont Blanc become less navigable due to increased snowfall, and some of the mountain refuges begin to close down.
Salamander Adventures does not recommend unguided tours at this period.
Tour du Mont Blanc Winter Weather Conditions
During the winter months—November to March—temperatures along the Tour du Mont Blanc route can plummet to -5°C, especially on January nights. When it improves in March, it doesn't scale above 11°C. The trails receive between 2 hours of daily sunshine in January and 6 hours in March, while monthly precipitation—in the form of hail, snow, and rain—can reach 60mm in December.
This is no period to hike around the Mont Blanc, as everywhere would be veiled under snow. If you love skiing, however, this is the perfect time to have some fun in the Alps.
Tour du Mont Blanc Spring Weather Conditions
The average monthly temperature improves from 3°C in April to 7°C on May nights, peaking at 20°C in the day. Monthly precipitation declines by a few millimetres as winter snow begins to thaw, and you can experience as many as 6 hours of sunshine per day.
The valleys in May can be void of snow-cover, but going on the Tour du Mont Blanc is dicey at this period, as the mountain passes will still be covered in snow and the terrain may be slippery.
Tour du Mont Blanc Summer Weather Conditions
June, July, and August are generally considered the most suitable months to go on the Tour du Mont Blanc, as it's from that period that a good portion of the mountain passes are free of snow-cover, and many of the mountain refuges are open. You can enjoy 10°C to 27°C of temperature in the valleys and up to 9 hours of sunshine per day.
Be mindful of these aspects of Tour du Mont Blanc summer weather:
Average monthly rainfall soars over 60mm in August, making it unpleasantly wet.
You are exposed to more UV rays as you rise in altitude.
Storms are common during summers in the Alps. Vertical clouds, haze, thunder, and lightning flashes are good signs to take cover.
Low clouds and fog can appear at any time, causing poor visibility.
Protect yourself by planning your packing list well and checking weather forecasts for the days you will spend on the Tour du Mont Blanc.
If you need any help or advice then get in touch with out Mont Blanc Tour experts today.