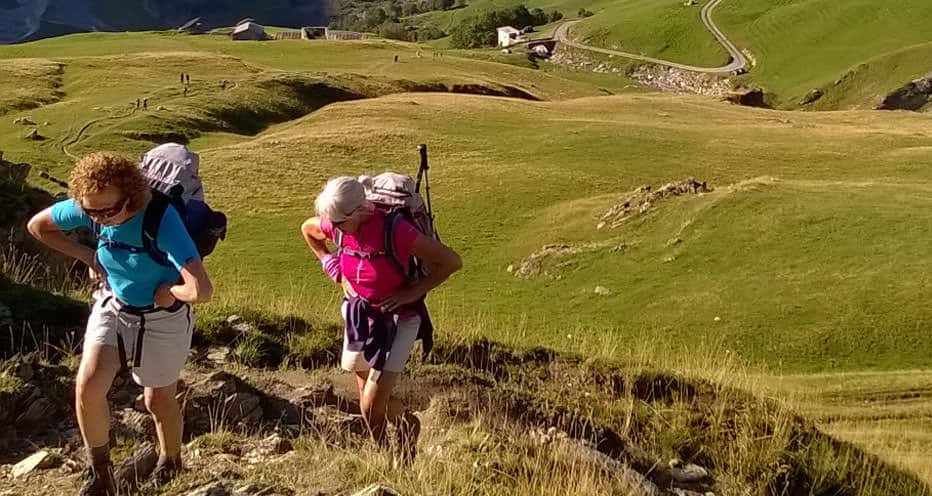 165 km distance on foot
Up to eight days of

trekking

/hiking with a rest day in the middle
Up to 1000m of ascent/descent over high mountain passes through Switzerland, France and Italy
Weather conditions should be T-shirt and shorts weather, but it can range from scorching sun and hot conditions to wind, rainfall, storms or snow.
The walking is mostly on well-maintained trails, though it is likely that you will encounter some rougher ground. Some ascents will be tough and you should be confident of climbing and then descending over 1000 metres in a day. The walk should appeal to people who regularly take walking weekends and are happy covering 16-22km (10-14 miles) each day, with a number of ascents and descents. This is a challenging trek and you should be confident of your fitness. You trek in a clockwise direction as the days are less strenuous at the beginning: it allows you to build your fitness and have a day off in La Palud (Courmayeur) before the last three big days.
The toughest or longest days are between La Fouly and Courmayeur; Courmayeur and Les Chapieux; Les Chapieux and Les Contamines.
Large number of people
With over 10,000 hikers each year, you will meet lots of fellow trekkers on the trail.  If you follow the traditional anti-clockwise route you often get caught up behind other trekkers as this is the busiest direction followed. However, the trail is wide enough in most places to easily get past. We follow a clockwise direction and congestion is far less: you just pass people coming the other way in a very short time. If you are on a guided trek our Leaders may take a slightly different route to avoid crowds.
If you book your trek with our company, we have confirmed reservations for every night of the trek so you are able relax without the need to worry about finding accommodation or food.
Explore the Tour du Mont Blanc with Salamander Adventures
Salamander Adventures offers two packages for the Tour du Mont Blanc: The Guided TMB and the Self-Guided TMB. Both stay in hotels and we do not use refuges  /mountain huts or stay in dormitories. Our clients stay in twin or double rooms, most with attached private bathroom.
For the Guided package
Qualified

trekking

Guide (International Mountain Leader) for whole

trek

9 nights hotels twin share accommodation, 1 night auberge
All breakfasts, 8 lunches included & 6 dinners
Transfers to and from Geneva can be arranged for an extra charge
Main luggage available 6 out of 10 nights
Transport & cable cars included
Self-Guided
You complete the

trek

unaccompanied
9 nights hotels twin share accommodation, 1 night auberge
All breakfasts & 6 dinners included
Main luggage available 6 out of 10 nights
Route Notes provided
Get in touch now to find out more about the Tour du Mont Blanc.