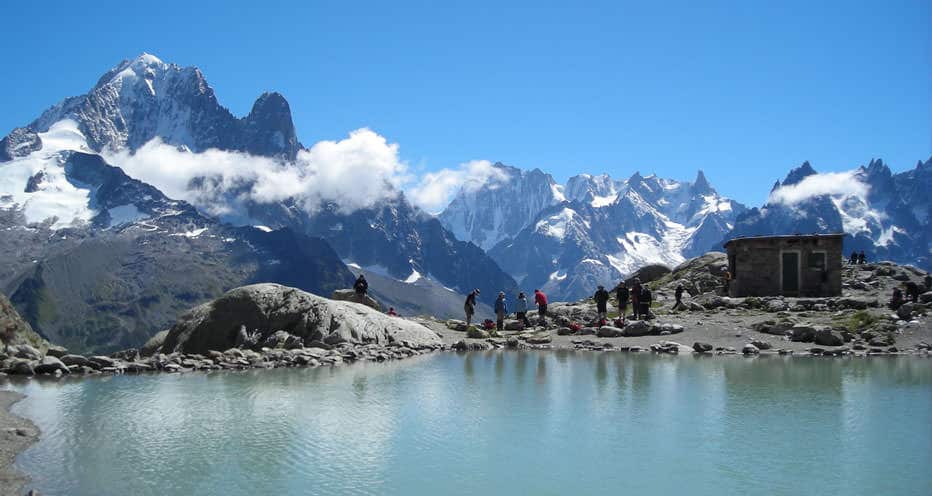 There are plenty of highlights on the Tour du Mont Blanc. Obviously there is the mountains, the views and the fresh air, but there is also the food, wildlife, different
hotels
, culture, language and meeting fellow trekkers on the trail. There is a huge sense of achievement in completing the whole Tour du Mont Blanc.
Mountains on the Tour du Mont Blanc
The Mont Blanc Massif has many high mountain peaks that tower above the valleys where you will walk. The Chamonix Aiguilles – needles in French – are huge granite spires offering some of the hardest and most exposed rock climbing in the world: Les Drus are the most famous and look over Chamonix. Bigger snow-capped peaks rise behind the Aiguilles and include Mont Maudit, Les Grandes Jorasses, Le Vert and the Aiguille d'Argentiere.
One of the best things about the Tour du Mont Blanc is the constantly changing mountain scenery. In one day you can see Mont Joli, then the Bionnassay Glacier, the summit of Mont Blanc and then the Chamonix Aiguilles. Each daily section is different and interesting.
Flora and fauna
The Tour du Mont Blanc covers a lot of distance, but also changes in elevation. This means you will see different trees and flowers that change as you ascend. Coniferous forests make way for shorter trees and bushes, such as the dwarf rhododendrons, and then high Alpages where only grasses and hardy Apline plants grow. Marmot, chamois and ibex are not uncommon and some of the birds include bearded vultures, or lammergeyers, and Alpine choughs.
Food and drink in France, Switzerland and Italy
The Tour du Mont Blanc crosses three countries and, although similar mountain villages are met, the food and drink varies. You can expect traditional mountain meals, rich in cheese, potatoes and meat such as rosti and tartiflette. There is pasta and pizza in Courmayeur and plenty of coffees and cakes at the mountain cafés and refuges. The range an quality of food has improved in recent years and so vegetarian, vegan and gluten-free diets are relatively well catered for. There are different beers and wines in each country and there are speciality local aperitifs such as genepi and grapa.
Towns and villages
The Tour du Mont Blanc traverses through many small towns, villages and hamlets. The bigger towns, such as Chamonix and Courmayeur have a large range of hotels, restaurants and shops whilst the smaller places, like Les Contamines and Les Houches, have fewer facilities but perhaps more charm. Champex Lac is beautiful and a favourite places to stay on the Tour du Mont Blanc: it has charming cafés over-looking the lake with the mountains in the background. The smallest hamlets and lone farms, where you can try goats' cheese and local meats are often the most friendly and memorable places to visit. There are numerous ancient churches, with Notre Dame de la Gorge just outside Les Contamines being the most interesting.
Call us to find out more about the Tour du Mont Blanc.