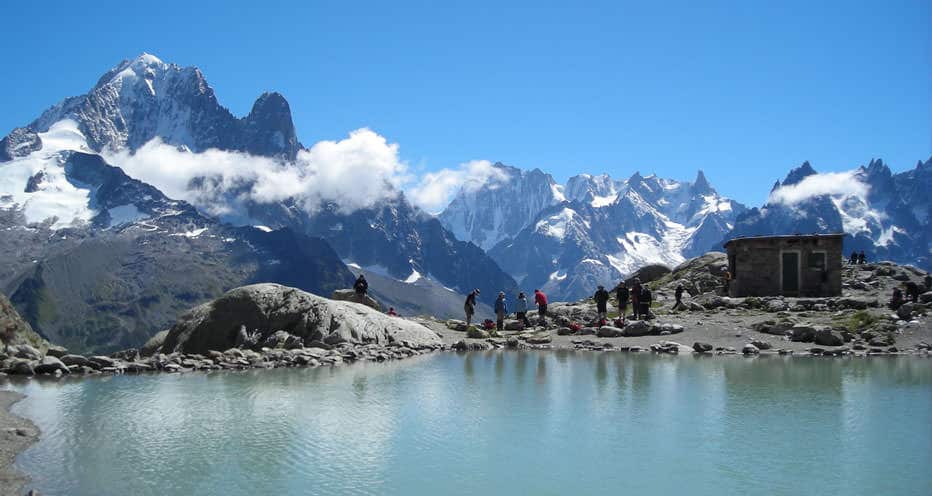 As many trekkers know, the highlights are in the journey and process, not just some spectacular spots along the tracks. But that is exactly what this piece is about: the spectacular spots and characteristics that draw 10,000 people to tour Mont Blanc each year and engage in the 11-day trek.
A Journey of Highlights on the Tour du Mont Blanc
To be clear, you are not going to enjoy every bit of the trek. Some of it will be grueling, especially if you are not fit. But what you will find is that you may don't mind a few blisters, and there are hotels you can get a decent masseuse to massage the muscle aches away.
From staying in high mountain huts to enjoying the ever changing scenic views, as you travel through France, Italy and Switzerland, you will find the tour fascinating.
Highlights of Tour Du Mount Blanc
The Tour du Mont Blanc highlights start almost immediately after you depart Les Houches. The first day of the walk you get to pass under the Glacier de Bionnassay as you head towards Col de Tricot. Two prominent features of the first day walk are the imposing Aiguille de Bionnasay and Dome du Gouter.
Heading to Italy
As you continue your march, you will pass through Col de LA Signe and Col de LA Croix du Bonhomme. It won't be long before you cross over to Italy and get treated to a spectacular scenery: the glaciers of Mont Blanc Massif pouring into the Val Veni. This view is one of tour du Mont Blanc's highlights.
Another highlight you will really want to take in is the Rhone Valley, which is in the walk to Trent if you pass through Alp Bovine. The view is simply gorgeous. Alternatively, you can take the more physically demanding route, Fenetre d' Arpette – a tour du Mont Blanc highlight for many.
Saving the Best to Last
The best highlights are often saved for last, and so it is with the Tour du Mont Blanc. Arguably the most spectacular view on the tour is at Col de Balme, which is on the last lap. The spectacular views on show include the astonishing summit of Mont Blanc, the sensational Argentiere, and the Mer de Glace.
Your trek comes to an end in Montroc and soon you will be heading back to Chamonix. You can take the time to give yourself a congratulatory treat for finishing the walk in Chamonix. There are no shortages ways you can spoil yourself in the town.
The Tour du Mount Blanc is regarded as one of Europe's best treks, and rightly so. Words rarely do it justice and the highlights do not tell the full story. If you make this walk, you will always remember it with pride and satisfaction. Tour du Mount Blanc an experience forever cast in your mind.
Get in touch to find out more about the Tour du Mont Blanc.