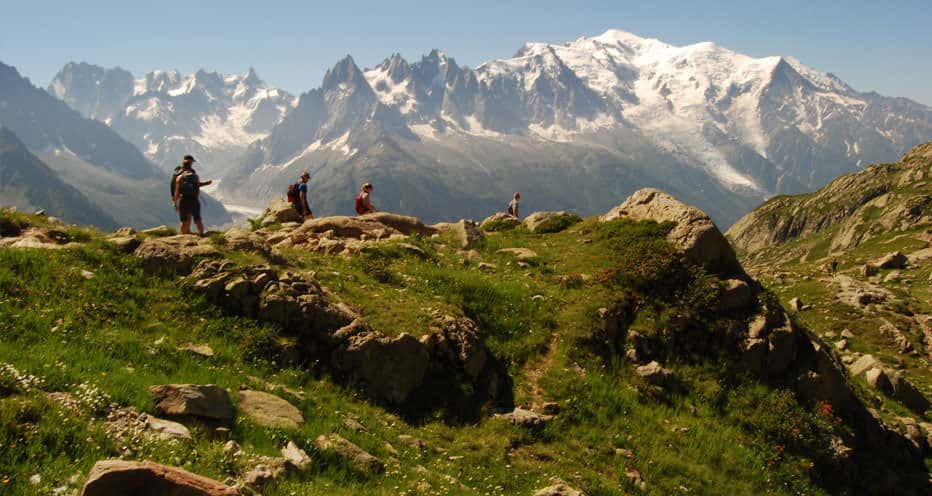 The
Tour du Mont Blanc
trail takes you through spectacular sceneries and natural wonders coursing the mountain-capped summits and glacial valleys in the French, Italian and Swiss Alps.
Typically, the classic trekking tour of the Tour du Mont Blanc is walked in a clockwise route that takes about 11 days. But if you prefer to do an independent 'trek-a-thon,' you could be fast enough to complete the journey through the routes on the Mont Blanc massifs in 4-7 days! But this is for very fit hikers and you'll need to pack light.
Perhaps, if you complete that feat, you could consider entering for the annual mountain marathon that takes the winner only 24 hours to cover the entire distance of the Tour du Mont Blanc Trail!
Whatever your choice: the typical leisurely 11-day walk or a quicker circuit finish, it is important you have high awareness skills and are physically and mentally equipped for the tour. Salamander Adventures' experienced team of International Mountain Leaders (IML) are on hand to guide you through the various options of Guided Tour du Mont Blanc, Self Guided Tour du Mont Blanc or the Self-Guided Budget TMB.
Our tourists are guided through a memorable experience with the Salamander Adventures '11-Day Travel Chart' available in our offices.
Mountain Trail in France
From France, the Tour du Mont Blanctrail, which is about 112 miles, usually starts and finishes in Les Houches in the Chamonix valley or Courmayeur if you chose to begin on the Italian side. In Switzerland, the starting and end point is either Champex or a point close to Martigny.
Mountain Trail in Switzerland
The Col des Fours in France and the Fenêtre d'Arpette in Switzerland at 2,584m (8,478ft) are the highest points on the Tour du Mont Blanc trail; with the standard height gain of the whole distance aggregating at 10,600m (35,000ft).But don't worry as that altitude is not high enough to cause sickness for most people.
Italian Mont Blanc Trail
From the Chamonix valley(also called the Arve), The Tour du Mont Blanc trail meanders through seven valleys leading through Montjoie, Vallee des Glaciers, Italian Val Veni, Val Ferret, Swiss Val Ferret, and either the Arpette or Trient valley in Switzerland, depending on selected route.
Salamander Adventures has developed long and solid partnerships with local hotels to make your trekking holiday a more rewarding and enjoyable experience at each stop on the 11-day trek. In the Chamonix valley, you can book a room in the Hotel in Argentiere. In Les Contamines, you may pay for the comforts of a dining room, outdoor pool, bedroom and garden. In Champex Lac, you have at your service the comfort of the Champex Hotel. There are also budget accommodations for bunks and classic dorms, as well as a picnic lunch in the Guided TMB. We advice you book for accommodation and these services in advance.
To find out more about or to book the Tour du Mont Blanc Trail get in touch with us today.